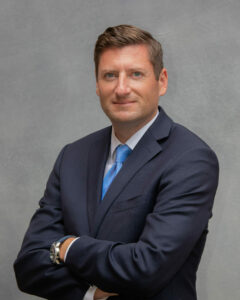 Christopher P. Aemisegger is an experienced litigator focusing on labor and employment law.  Chris represents employers in state and federal courts and before administrative agencies. Chris has experience defending employers against discrimination, wrongful termination, and workers' compensation disputes.  Chris has successfully defended employers in jury trials throughout Ohio, in the appellate courts, and at the Supreme Court of Ohio.
Chris graduated with his Juris Doctor degree from the University of Notre Dame Law School in 2007. Chris graduated magna cum laude with a Bachelor of Arts degree in Political Science from DePaul University in Chicago. Throughout his academic career, Chris received significant recognition and prestigious awards including receipt of the Vincentian Heritage Scholarship, membership in Phi Kappa Phi and Golden Key International Honor Society, induction into the National Society of Collegiate Scholars, and a recipient of the LeGrand Smith U.S. Congressional Award.
In addition to his active litigation practice, Chris advises clients and lectures on various labor and employment issues, including Ohio Workers' Compensation, Title VII, ADA, ADEA, FMLA, non-compete agreements, and employment contracts. Additionally, his litigation practice includes product and premise liability, personal injury, and professional malpractice disputes.
Chris applies his experience in the courtroom as a coach and mentor for the Delaware Hayes High School Mock Trial Team.
In his free time, Chris enjoys reading, golfing, watching all sports, and spending time with his family and friends. Chris is licensed to practice law in Ohio and Michigan. He resides with his wife and two kids in Westerville, Ohio.
Areas of Practice:
Employment Law

Labor Relations

Civil Litigation

Workers' Compensation Law
Bar Admissions:
Ohio 
Michigan 
Professional Affiliations:
Ohio Bar Association
Michigan Bar Association
Central Ohio Self-Insurers Association
Ohio Self-Insurers Association
Notre Dame Club of Columbus
Columbus Young Professionals
Education:
University of Notre Dame Law School
Juris Doctor
Vincentian Scholarship Recipient
London Law Program
DePaul University, Chicago, Illinois
Graduated Magna Cum Laude
Bachelor of Arts in Political Science
DePaul University Mock Trial Program
Law School Admissions Test Tutor
Delta Kappa Epsilon, President
Contact Information:
Email:           caemisegger@thomaslawlpa.com
Office:           (740) 363-7182
Direct Line:   (740) 417-9515